FlatCalendar eXtremely Perfect TM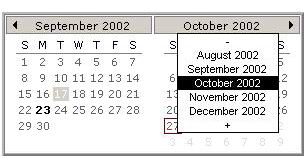 FlatCalendarXP is arguably the most powerful and configurable JavaScript calendar available. There are very few, if any, things that other JavaScript calendars can do that FlatCalendarXP can not. You'll be amazed to see how simple and fast it is to get it generated by a calendar tag - YES! Only one tag* on your web page, no chaos, no mess-up.
It features database-driven events/agendas, real cross-browser capability, extremely customizable UI, super easy-to-use design and a compact and fast JavaScript engine. It works perfectly with ASP.NET, ASP, JSP, PHP, ColdFusion and other web frameworks. Online demos can be found here.

PopCalendar eXtremely Perfect TM
PopCalendarXP is a great-looking JavaScript date picker that comes with many convenient features to facilitate date inputs on your webpage. In short words, it's simple outside while powerful inside and all well-documented that even people with little JavaScript experience can get it working in no time.
It features auto-adaptive positioning, database-driven events/agendas, real cross-browser capability, extremely customizable UI, super easy-to-use design and many handy options. It works perfectly with ASP.NET, ASP, JSP, PHP, ColdFusion and other web frameworks.
Take a look at the online demos here. Try it by yourself - just experience the power and enjoy the simplicity!

*More tags are required if you want to support the outdated netscape 4.x.
Security Update Warning
Thanks to Ilguiz Latypov, an XSS security weakness was detected in the iflateng.htm and ipopeng.htm files. We have fixed it in the latest release. But if you installed CalendarXP products before, please ensure to overwrite them with the version 10.0.1 or newer. Details can be found here:
https://nvd.nist.gov/vuln/detail/CVE-2017-9072
Our Valuable & Noteworthy Customers
Exxon Mobil, Cisco Systems, Oracle, eBay, Philips, Lockheed Martin, Siemens Medical Solutions, Toyota, GM, GE, Walt Disney Co, EMC, Zurich Insurance, Apollo Group, ABN AMRO Bank, Hotels.de, Hotels.com, British American Tobacco, Pfizer, ConsumerGuide.com, Verizon Wireless, ScotiaBank, Honeywell, Starwood Hotels & Resorts, Dow Jones & Co, iTravel2000, Kayak.com, Flight Centre Ltd, Manulife Financial, Fitch Risk Management, Renault F1 Team Ltd, Cirrus Logic, Hewlett Packard, Tucows, Deloitte & Touche, Iceland Air, The New York Times, BearingPoint, New York Post, Resturant Management Co, Telecom NZ Ltd, STA Travel, State Auto Insurance, and many more.
---
Copyright© 2003- Idemfactor Solutions Inc. All rights reserved.